Armenian Genocide:
Selected Web Resources
Armenian National Institute - Affirmation of the 1915 Armenian Genocide committed by Ottoman Turkey, featuring photos, documents, maps, chronology, resolutions, bibliographies and educational resources. One of the most extensive and scholarly sites on the Genocide.

http://www.armenian-genocide.org/

Armenian Genocide – Timeline, ABC New video and Armin T. Wegner's photographs

Link to the film The Promise (2016)

http://www.theforgotten.org

Multimedia site on the 1915 Armenian Genocide:
http://www.genocide1915.info/#

Selected Books
Taner Akcam, A Shameful Act: The Armenian Genocide and the Question of Turkish Responsibility, New York: Metropolitan Books, 2006.
Peter Balakian, The Burning Tigris: The Armenian Genocide and America's Response, New York: HarperCollins, 2003.
Donald Bloxham, The Great Game of Genocide: Imperialism, Nationalism, and the Destruction of the Ottoman Armenians, Oxford: Oxford U. Press, 2005.
Vahakn N. Dadrian, The History of the Armenian Genocide: Ethnic Conflict from the Balkans to Anatolia to the Caucasus
Providence, Rhode Island, and Oxford: Berghahn Books, 1995.
Richard G. Hovannisian,editor. The Armenian Genocide: History, Politics, Ethics, New York: St. Martin's Press, 1992.
____________________________________________
For further information contact:
Armen T. Marsoobian, Professor and Chair,
Philosophy Department, EN D218
Southern Connecticut State University
501 Crescent Street
New Haven CT 06515
email: marsoobiana1@southernct.edu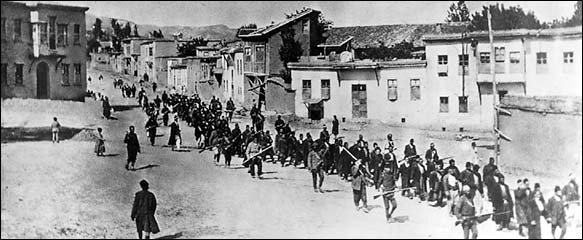 Armenians being marched out of Harput, Ottoman Turkey under armed guard in May 1915.

Almost all these deportees perished.

A German businessman took this photograph from his window.

(Photograph courtesy of Project Save, Watertown, MA.)