Cambodia
Extraordinary Chambers in the Courts of Cambodia (ECCC) LINK
From the ECCC website:

"The Khmer Rouge regime took power on 17 April 1975 and was overthrown on 7 January 1979. Perhaps up to three million people perished during this period of 3 years, 8 months and 20 days. The end of Khmer Rouge period was followed by a civil war. That war finally ended in 1998, when the Khmer Rouge political and military structures were dismantled. In 1997 the government requested the United Nations (UN) to assist in establishing a trial to prosecute the senior leaders of the Khmer Rouge. In 2001 the Cambodian National Assembly passed a law to create a court to try serious crimes committed during the Khmer Rouge regime 1975-1979. This court is called the Extraordinary Chambers in the Courts of Cambodia for the Prosecution of Crimes Committed during the Period of Democratic Kampuchea (Extraordinary Chambers or ECCC). ... An agreement with the UN was ultimately reached in June 2003 detailing how the international community will assist and participate in the Extraordinary Chambers."
Selected Web Resources

Cambodia Tribunal Monitor LINK

Yale University Cambodian Genocide Program LINK

Selected Books
Ben Kiernan, How Pol Pot Came to Power: Colonialism, Nationalism, and Communism in Cambodia, 1930-1975 (New Haven: Yale University Press, 2004). LINK
Ben Kiernan, The Pol Pot Regime: Race, Power, and Genocide in Cambodia under the Khmer Rouge, 1975-79 (New Haven: Yale University Press, 2008). LINK
Selected Films

NEW YEAR BABY (USA, 2008)
a documentary film by Socheata Poeuv
LINK

The Killing Fields (UK, 1984) Directed by Roland Joffé LINK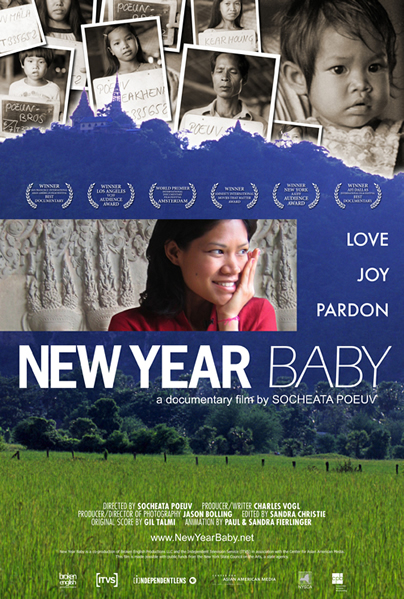 Recently featured on PBS's national award-winning show Independent Lens, New Year Baby is an inspirational documentary that has won seven major awards at film festivals all over the world.
Born on Cambodian New Year in a refugee camp, Socheata grew up in the United States not knowing anything about her family's past. In NEW YEAR BABY, she journeys to Cambodia to discover the secrets of how her family came together during the Khmer Rouge period. She finds that what her parents hid in shame also proves their great heroism.

LINKS
www.newyearbaby.net and www.khmerlegacies.org