Klotjevac

Link to Scenes from Klotjevac August 17, 2008

Read the commemorative address presented by Ron Adams and Hariz Halilovich and view photos from the Unveiling of the Klotjevac Memorial July 12, 2009 LINK

The linked web album offers scenes from present-day Klotjevac, including the remains of homes and other structures heavily damaged by Serbian shelling. Also shown are empty sites of other former homes, the former site of the village mosque, and the burned-out shells of the former elementary school and post office.
Special thanks to my friend Omer Sulejmanović for all his help in the preparation of this information. Omer was born in Klotjevac.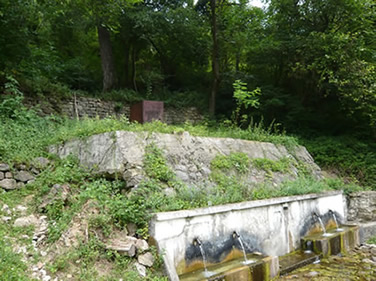 The Spring at Klotjevac
photo by David Pettigrew August 17, 2008
A stone monument has been placed above this spring in memory of those of Klotjevac who were killed during the war, both in Klotjevac and at Srebrenica.
The official unveiling took place July 12, 2009

To see photographs of the unveiling click here:
LINK

Read a detailed report about Klotjevac,"Klotjevac: forced displacement and ethnic cleansing in an eastern Bosnian village," by Hariz Halilovich, University of Melbourne, and Professor Ron Adams, Victoria University, Melbourne, Australia, LINK
(Temporarily disconnected)

Special thanks to Hariz Halilovich and Ron Adams for their permission to post this extract from a longer work.